Andrew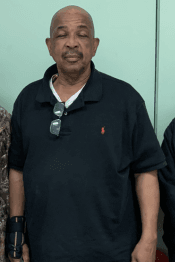 Andrew is walking a mile in very own his shoes... 
Andrew Shears lives in Helena, but volunteers at the Elaine Legacy Center in Elaine. He most recently became an AmeriCorps/VISTA Volunteer. Andrew is involved in agriculture at the center and responsible for Vegetable Gardening at the center.  
Andrew was living in Tennessee before moving back to Arkansas. He was receiving TennCare and applied for Arkansas Medicaid. He is receiving disability. He most recently received a notice stating that his Medicaid was denied. He is unsure as to why his Medicaid was denied but thinks that it has something to do with verification from his bank in Memphis. The denial has caused Andrew to become frustrated. He called the local human services offices but has not been explained why he was denied benefits. His frustration led to him throwing away all his recent mail that he received from human services, and he has now requested legal assistance from Legal Aid of Arkansas. In addition to this setback, he is now without transportation because his truck is inoperable and needs repairs. He is unable to get to the Elaine Legacy Center or do his normal chores and tasks which require transportation. He had to pay for his last medical visit out of his pocket. This means he does not have the money to repair his truck.  
Staying active is something that Andrew feels he must do to keep his arthritis from causing him to become immobile. Andrew walks five times a day. Most times these walks are for thirty minutes. He has arthritis in his lower back and neck, and he suffers from Gout, Hypertension and Prostrate problems. He has difficulty sleeping at night and so he takes medication to help him sleep. In addition to these problems, he was hit by a car a few years ago, sustained minor injuries, and still must take pain medication related to that as well.