Barbara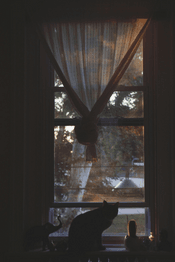 "It's 7 a.m. and I am at my 43-year-old son's house struggling to care for him. He has muscular dystrophy with respiratory complications, and his suction machine isn't working properly. I am in a panic. If Joseph isn't suctioned regularly, he can develop a mucus plug which can block his airway, preventing him from breathing. My son is strong and smart and independent in many ways, but mucus is his Achilles Heel; a constant reminder of the devastation respiratory distress complicated by muscular dystrophy can cause at a moment's notice.  
But this day has only begun. The [Medicaid provider] that provides suction machines does not open until 9 a.m. Try as I might, I can't locate a live person until 10a.m. They are nice enough but say they can't send one out because they don't have a prescription for it on file and his physician must be contacted to obtain a prescription. Barriers. Constant barriers. He has had this disease his entire life and they can't create some type of standing prescription system allowing him a new suction machine? Nothing is going to change; he will always need one. I continue to struggle to keep his airway open while contacting the physician. One very long hour later, at 11 a.m., the prescription gets faxed to the equipment company. Ah. Relief for Joseph is finally in the works. But then the company says they don't know when they can get one out to him. 
So, I continue clearing his airway manually. I am a nurse by profession, and I ponder - as I care for my son - what other folks do at times like this. How many of our sons and daughters die as we helplessly stand by, waiting for durable equipment necessary to save a life?  The medical system moves so slowly, and our sons and daughters do not have the luxury of spending the day in peace waiting for a crucial piece of equipment – every moment feels like the minute next to disaster. I again contact the medical supply company at 1 p.m. while continuing to fight to keep Joseph from drowning in his secretions that he doesn't have the strength to cough out of his airway. I stress that this is an emergency and beg them to please bring it now rather than later. My son's well-being depends on it. They casually explain that they can deliver one today but can't say exactly when they could get it here. I feel frustrated and exhausted as I continue to work to try to keep enough air moving through his esophagus to prevent Joseph from being in distress. I can't imagine how Joseph has learned to stay calm during these episodes. I am not calm. I need help and I need it now. 
As I continue struggling to manually clear his airway, I call the long-term care agency that provides his nursing care and I plead with them to try to get his suction machine delivered right now. I don't want to have to call an ambulance, but this is not sustainable. They make some calls on Joseph's behalf. At 3:15 p.m. the suction machine is delivered and – finally, finally - Joseph can breathe again. And I can, too.  
This is not an unusual circumstance. In fact, days like this are rather typical. This is ridiculous - and this is why Medicaid is deadly to the people for whom they are supposed to provide care. The paperwork and spider web of rules and regulations put Medicaid patients at risk every day." 
Photo credit: Early Morning Window with Cat    PC: Julie O'Boyle  found at  https://blog.freepeople.com/2014/09/beauty-early-morning/#sthash.Rtr0gUTA.qjtu