Carolyn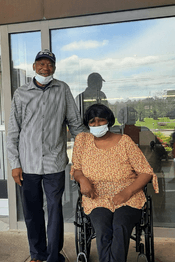 Carolyn, who is 51 years-old, lives approximately 82 miles from Memphis, Tennessee. The closets city that she can obtain medical treatment for her eye condition. Carolyn has scheduled five (5) appointments for possible right eye surgery in Memphis and she has called for Medicaid Transportation for each visit*. On the day or night before her appointment, she receives a call from the Operator stating that they were unable to find her a driver to Memphis.  Carolyn's doctor has become frustrated with her because the office has had to cancel each of her five (5) appointments, however, it was due to no fault of her own. The agency providing the Medicaid Transportation has left Carolyn without a means of getting to her eye doctor for an exam that could possibly save her eye. She has no personal vehicle and no other means of getting to this appointment. 
Carolyn was scheduled to see her eye doctor in March for possible surgery on her right eye.  The agency providing the Medicaid Transportation called her the night before and informed her that they were unable to find a driver for Memphis.  She then rescheduled for April, but on the day before her April appointment, she received another call stating that they were unable to find a driver for Memphis.  This same "song and dance" occurred three (3) additional times, resulting in 5 canceled appointments.  After contacting Legal Aid of Arkansas for assistance, Carolyn was rescheduled for August 30th. However, she received a call August 29th from the Medicaid Transportation Provider, telling her that once again, they were unable to find a driver for Memphis.  Feeling hopeless and defeated, she contacted Legal Aid of Arkansas and spoke with paralegal, Kathy Grady.  After approval from her supervisor, Kathy traveled to Pocahontas to pick up Carolyn and her husband for an appointment at the University of Tennessee Eye Center in Memphis.  If not for the compassion of Legal Aid's Kathy Grady, Carolyn would not have made it to her appointment. 
The good news is that Carolyn does not require surgery on her right eye currently.  Her doctor plans to continue her on medications and she will not have to be seen again for another six months.  In the meantime, she will continue to battle with diabetes, which has largely contributed to her current eye problems.  Carolyn will continue to receive disability benefits, as she has for the last three years and assistance from two personal care aides. Her husband Herman also serves as her caregiver, after he chose to take early retirement so that he could help her when the aides aren't there.  As a compassionate caregiver, Herman provides as much assistance as he possibly can, and it is evident when you see him in action assisting her. 
Carolyn is fortunate that her eye condition was able to be managed and did not take a turn for the worst. Cancelled appointments could have resulted in her losing 100% of her eyesight.  She hopes that the agency will improve how they locate drivers, and that no other patient experiences what she has had to endure.  Hopefully by the time of her next appointment in another six months, there will be a driver who can transport her to her appointment in Memphis. 
*Medicaid recipients qualify for the Non-Emergency Transportation Program (NET). NET provides free transportation to and from doctor appointments and other covered Medicaid services. There is no limit on the number of trips/miles you travel to and from Medicaid-covered services.