In memoriam of Queen Esters (1954 – 2023)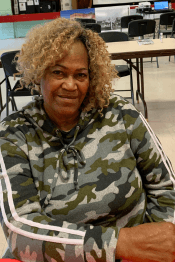 Our story collective would like to take this time to honor and thank Queen Esters for sharing this story with us prior to her untimely passing. We believe that her story and her words still have power... 
Queen receives Medicaid and Medicare*. The only problem she has had is at times she pays higher prices for her medications.  She says that her prescription costs largely depend on the pharmacy she shops at.  Queen says that although a portion of her medications are fully covered by Medicaid, she still has to pay somewhere between $20.00 to $70.00 for her remaining medications.  Luckily, there is no co-pay for her blood pressure medication, however, her uncovered medications include muscle relaxers, cold medications, and other drugs. Queen has been on Medicaid for approximately twenty years and can confidently say that she has had a positive overall experience, with the exception of occasional high co-pays. 
* People who have both Medicare and full Medicaid coverage are "dually eligible." Medicare pays first when you're a dual eligible and you get Medicare-covered services. Medicaid pays last, after Medicare and any other health insurance you have. (https://www.medicare.gov/basics/costs/help/medicaid).