Joseph G.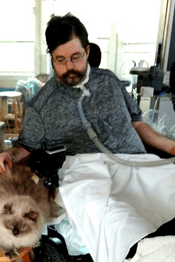 Joseph is a 40-year-old man who does not let his Muscular Dystrophy define him. As his mother says, "His mind works wonderfully; it's his body that doesn't work." As a paraplegic, Joseph has been confined to a wheelchair his entire life. He grew up, got his own place, attended the San Francisco School of Art, and became a successful graphic artist. Life was great and Joseph was doing well until 6 years ago when a gall bladder infection led to respiratory failure and left him hospitalized for about a month.  
When Joseph was released from the hospital, his mother - Barbara - was reassured that there was home-based care available to help support him. She was grateful because – as an experienced nurse – she knew that her son would need support. He was released on a ventilator, with a tracheostomy, a catheter and a feeding tube; he would require these supports for the rest of his life.  But the home-based care never materialized. Barbara quickly applied for Medicaid to help her afford long term, home-based care for her son. She reports it took her 3 months to get the approvals in place and for the first caregiver to arrive. As a nurse, she knew how to care for Joseph and manage the equipment that works daily to maintain his life. She worries about people who do not have the same medical training and are left struggling to care for their similarly positioned children. Margins of error are very narrow when one is caring for a medically fragile patient.  
Over the past 6 years, Joseph has not experienced notable improvement in his health, however, the hours of home-based care allowed for him have only dwindled. At one point, she sought legal help to ensure Joseph received – at the least – minimal home-based care. While Joseph does not need 1-on-1 intensive assistance for everything, he does need 1-on-1 care 24 hours a day. If phlegm collects in his bronchioles (which happens without notice, but fairly regularly) he needs a person on-site to help him clear the phlegm to allow him to breathe. This means he needs a support person nearby 24/7.  
With the help of Legal Aid of Arkansas, Barbara was able to win the fight to restore the home-based care hours that had suddenly been taken from Joseph. She noted that – at their appeal hearing – the doctor who testified on behalf of Medicaid did not know or understand Joseph's situation. She reports this doctor (who had purportedly reviewed Joseph's situation and supported the cut to his hours) did not even know Joseph was an adult or intellectually capable. The doctor admitted he had simply signed the paperwork as requested by the agency. 
Joseph and Barbara are grateful for the support Joseph is afforded by Medicaid and acknowledge these supports allow Joseph to continue to live as independently as possible. However, Medicaid benefits often seem to be as fragile as Joseph's health.  Joseph receives letters and notices from Medicaid requiring him to respond and/or take some type of action by a specific date. That date has often passed by the time they receive the notice in the mail.  This results in hours spent trying to restore his benefits and services. A call to the Department of Human Services is never an easy thing; requiring long holds and myriad transfers before they finally find the proper person with whom they must plead Joseph's case. There is no central contact person for clients, like Joseph, who are receiving long-term care. 
Barbara notes frustration with the case managers who are purportedly there to help manage Joseph's care. They dutifully call every month and are cheerful and kind. However, many requests made of them result in denial of assistance. For example, Barbara indicated 6 boxes of gloves are required each month in order to hygienically care for Joseph. She was told Medicaid only allows two; so no. At one point, Barbara was hoping to identify alternative placement options for Joseph for the long term. She asked the Case Manager to help her identify these options. The Case Manager cheerfully suggested she call each and every facility in the State of Arkansas to determine which ones would be able to meet Joseph's particular needs. Frustrated and overwhelmed, Barbara asked, 'Isn't that something you should be helping with as Joseph's Case Manager?" And was again, cheerfully told no - that isn't what is expected of a Case Manager; there was nothing she could do to help.  
Barbara states the contracted support coordinators are paid to manage her son's care each month. She suggests they are slow to respond and slow to act on requests. This shifts the costs of care to the family. For example, Barbara recruits and trains most of the home-based caregivers herself. The Support Coordination organization is supposed to conduct background checks and certify the new-hire within 30 days of hiring. The patient's family is responsible for paying for the patient's care during the interim. This payment is not reimbursed once the new hire is approved to provide services. This means that during the first month of hiring, the family bears the costs of paying for services.  The cost is overwhelming. However, Barbara notes the employee screening often takes up to 90 days (i.e., 60 days outside of the policy limit). Due to the agonizingly slow process involved in hiring a caregiver, the burden of the expense is shifted to the family for that period of time. Barbara worries that this practice will eventually deplete her and her husband's resources completely. But money is only one of Joseph and Barbara's concerns.  
Taking care of a family member who has fragile health can be daunting – and the challenges are invisible to the casual observer. Joseph's mother has found that she is unable to make any plans for herself. She is unable to confidently plan short breaks – or even visits with her daughter and grandchildren because her plans are often usurped by caregivers who might call in sick or be called away from their job to an emergency of their own. If the caregiver does not appear, the shift now belongs to Barbara. Because the amount of natural care provided is not acknowledged, there is no allowance made for respite care. The parent is at the mercy of everyone within Joseph's sphere of caregiving. This creates stress and burnout. The hours of care are not even guaranteed. For example, Barbara shared that Care4 has allotted 112 hours of weekly home care for Joseph. However, he regularly only receives 80 of those allotted hours. Care4 is continually short of staff so the family must make up for the hours they cannot seem to get covered. Although the contracted provider is contractually bound to provide 32 hours of care on the weekends, this has not been happening at all. Barbara repeatedly has contacted them requesting they start covering the weekend hours as contracted. Care4 noted the difficulty in hiring weekend staff. Then offered her a weekend caregiver who was willing to cover 8 (of the 32 contracted) hours of care. She asked them to renegotiate with this employee; she really needed Joseph to be cared for during the weekends as contracted. Care4 then contacted her saying an employee was willing to work 8-4 on Friday, Saturday, and Sunday – ignoring the fact that Joseph already had care provided on Fridays and the nighttime care provider went off the clock at 7 am; requiring Barbara to be available to provide care at 7 am each day morning and then return at 4 pm to provide more care. Eventually a caregiver agreed to work two twelve-hour shifts. And the weekend care offered totaled 24 hours instead of the 32 hours Medicaid allotted. It is a never-ending battle to fill the hours needed for Joseph to continue to live a quality life with dignity. 
Barbara indicates the provision of care for her son is stitched together daily like a patchwork quilt. Unlike a patchwork quilt, this arrangement does not provide comfort or feel very caring. The daily stress of ensuring Joseph receives adequate care sometimes takes its toll on her relationship with her son. They work hard to avoid this – but feel it is a bit inevitable due to the problems inherent in Joseph's care. Barbara loves Joseph and wants him to live a long, happy life in the least restrictive environment possible. Joseph loves his mother and is grateful for her commitment to his well-being. They are both grateful for Medicaid and how it aids them in maintaining Joseph's health; however, they are both aware of how tenuous this care plan has been – and hope for a better future.