Lis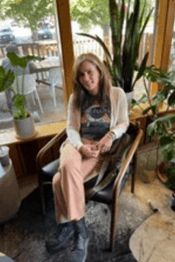 Lis works on the big stage, but you won't find her up there acting, singing, or even dancing. She's a stagehand for the famous Walmart Amphitheater. She arrives for the show early and leaves late so that every offered production is seamless and beautiful for the audience. Did you get a chance to catch "My Fair Lady" at the Walton Arts Center in August? Then you likely saw her in the gorgeous, ingenious set. She helped build "Professor Higgins' house" – a complicated, revolving set with a spiral staircase, 2 side yards, and 2 scenes within the home. It was breathtaking and took a lot of creativity and work! She loves her job and the satisfaction she gets from it.  She equally loves breaking down sets – including post-concert equipment. It's extreme physical work, and everything has its place - just like Tetris. Her work allows her to get into the zone, forget her worries, and just spend time enjoying the organization of the process. She gets to meet all sorts of people through her job – and she also finds herself getting unique opportunities unavailable to most people.  In fact, a man she had previously met on the set of "True Detective", literally ended up saving her life. We dive into the chilling details of this story down below.  
In 2014, Lis got a tick bite that changed her very life. She watched with dread as the bug bite developed the familiar "bulls-eye pattern" that signified the possibility of a tick-borne illness.  It was all downhill from there. Now subjected to a bad infection, Lis' tick bite turned into a long battle with Chronic Lyme Disease. Despite her circumstances, she remained positive, optimistic, and was careful to protect her health. Staying hopeful is very important when dealing with Chronic Lyme Disease.   
One day in 2019, while driving 70 mph on Interstate 49, Lis lost consciousness and control of her car. She describes that she went "Dukes of Hazard" over a fence, into a ditch, and crashed into a pole. To this day, she is unsure of how long she was sitting there before she regained consciousness; but she remembers she panicked and had a near-death experience. She is beyond grateful that she wasn't seriously hurt in the accident– but the Emergency Room decided to check her in for a few days for observation. While being monitored, doctors discovered she had a serious heart arrhythmia. They further explained that the tick-borne Chronic Lyme Disease caused her to develop some electrical abnormalities, which led to the arrhythmia, and that was ultimately responsible for her losing consciousness. Lis' condition quickly escalated and before she knew it, she was being rushed into surgery to save her life!  Post-surgery, while in the recovery room her doctor told her that people in her condition required a pacemaker. And she needed one as soon as possible. After delivering this news to her, Lis recalls her doctor pausing, staring, and appearing to be in deep thought about something. He gave her a funny look, tilted his head, and then finally exclaimed he remembered where he knew her from! He told her, that he had played the role of her ex-boyfriend on the set of "True Detective", one of the shows that she worked, and he had auditioned to be an extra in. She said, "I remember!" and they both erupted in laughter.  While reminiscing, Lis did recall that during the show,  this man had told her he had worked as a Heart Surgeon, but she thought he was just "showing off" and so she hadn't believed him. But now, she had proof! He really is a Heart Surgeon and was now her treating surgeon!  
Lis' Heart Surgeon (and fake ex-boyfriend) advised her that pacemakers were expensive and usually came with a high co-pay; he was worried that she wouldn't be able to afford it. But with great relief, she told him that upon entering the ER, a kind woman, who was at the hospital had appeared and gotten her approved for Medicaid*. The Surgeon was all smiles – he knew that she was in good hands with Medicaid and that she wouldn't have to worry about co-pays. The next day Lis was sporting a newly installed pacemaker. Lis is very grateful to have Medicaid available to her. She has used it to help with a variety of medical needs for herself and her son. Of course, Lis does what she can to stay healthy, positive, and busy - despite her Chronic Lyme Disease - but knowing that Medicaid is there to help her with doctor visits, emergency room visits, and the maintenance of her pacemaker gives her peace of mind.