Michayla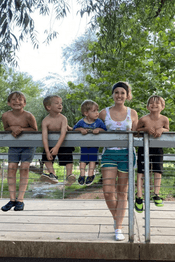 Michayla is a young, divorced mother who is caring for her four young sons in Northwest Arkansas. She is lucky to have strong family support and parents who are happy to help her as she works toward regaining financial independence. She keeps herself and her sons in good health with healthy eating and regular well-child check-ups. To Michayla's surprise, her ARHome benefits were recently switched to a new Health Plan that does not require co-pays for her medical visits.* This is very helpful – she no longer has to check to see if a visit to the doctor is in her budget when she is feeling ill.  
Divorce – and adjustment to post-divorce lives – can be a struggle for children, and Michayla has been diligent in ensuring her children receive the help they need. Through ARKids, all four children have received counseling. Michayla is grateful for Medicaid and has not really had a lot of trouble accessing the doctors and services she and her children need. She has had a bit of a struggle getting her youngest son's medical card – but is working to get that matter resolved. She is confident her children's needs are being met - including their dental needs. She noted it would be helpful if Medicaid could pay for her dental care, also, as her dental care takes a big bite out of her limited budget. 
*Note: Beginning September 1, 2022, adults (aged 18 – 64) who qualify for the ARHome Medicaid program must call DHS or go online to select a Qualified Health Plan (Ambetter, Blue Cross Blue Shield, or Qualchoice). People who do not choose one of these three health plans will remain on State Plan Medicaid, which requires co-pays and different levels of coverage for healthcare and medications.