Monique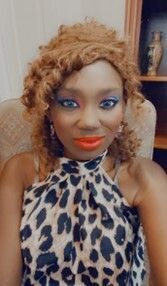 Monique is beyond grateful that she and her four children have access to Medicaid. Without it, she'd be lost. She uses it to keep herself and her children healthy. Health care is expensive, and it's even more expensive for Monique since she had gastric bypass. The special "post-surgery" care she receives (plus a few other medications that keep her well) would cost her well over $1,300 each month without Medicaid, and that's money she doesn't have on hand every month.
After getting bariatric surgery, one must be extremely careful about what they eat and how they eat. They must eat small amounts of food at a time and pay special attention to getting adequate nutrition. Taking in too much sugar – really any binging – is off limits because every calorie counts. Since there isn't a lot of room for extra indulgences, socially "going out" has to be very limited. Mistakes can be costly. Eating too much, or not eating enough can lead to serious consequences for Monique. There is even a heightened risk of death. Bariatric surgery is life changing in many wonderful and yet terrifying ways.
As grateful as she is to have Medicaid available to her, Monique is also disappointed in the system that delivers it. She is acutely aware that she lives in Arkansas – a State that she views to be lagging in promoting overall well-being and socio-economic measures. 1The Arkansas Dept. of Human Health published information rating Arkansas as having the 5th highest rate of poverty in the nation (at 16.2%) - at least 50% of the population is living in a food desert (i.e., low access to healthy food sources). It ranks 40th (out of 50) in education and 6th in the nation for obesity. And yet, Medicaid (and other insurance
providers) regularly deny access to bariatric surgery; a procedure that can extend lives and improve one's quality of life. Monique believes that insurance companies should get out of the business of denying claims for procedures that doctors have deemed necessary, as it is short-sighted and if delayed, can become much more expensive in the long run. The surgery has positively changed her life, despite the challenges of eating right.
Monique also noted how difficult it is to connect her children with primary care providers (PCP) through Connect Care. She understands the importance of having a PCP to coordinate care but was astonished at the amount of research and work that goes into engaging a PCP for one's child. First, she went online to identify medical providers who accepted Medicaid. Once she had a list of providers, she then began calling to see if which providers were accepting new patients and who out of those had slots to fit her children. It was a very frustrating process. After receiving so many "no's", she was left feeling very discouraged about whether she had any power to select a provider of her choice. But everything ultimately worked out. She loves her doctors, is confident in her children's doctor, and is very happy for the opportunity to use Medicaid to keep her and her children healthy and happy.