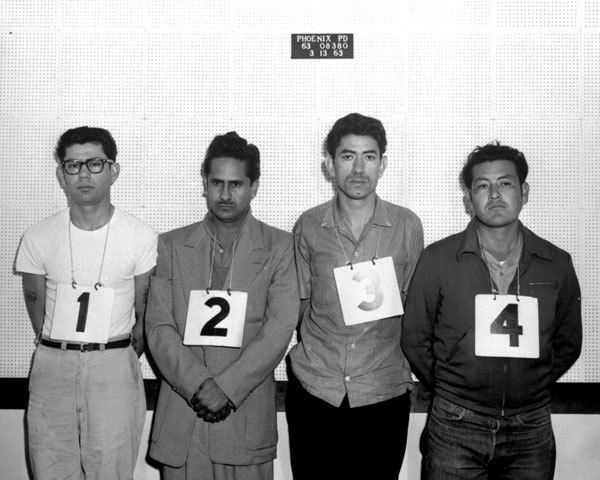 February 28: on this day in history, attorneys went before the U.S. Supreme Court to argue a case that would become perhaps the nation's best-known Supreme Court decision, Miranda v. Arizona. That case is about criminal procedure, so you might be asking yourself what it has to do with Legal Aid of Arkansas. Read on!
Each year on the first Saturday in May, Legal Aid of Arkansas hosts the Law Day Running Festival to celebrate the American Bar Association's Law Day initiative. This year's Law Day theme is "Miranda: More than Words." In 2016, the nation marks the 50th anniversary of Miranda v. Arizona. The familiar Miranda warning comes from this landmark ruling. Before an interrogation, police must tell suspects about their right to remain silent and their right to legal representation. This year's theme provides an opportunity to explore our criminal justice system and the importance of procedural fairness and equal justice under the law.
More about Miranda:
"You have the right to remain silent. Anything you say can and will be used against you in a court of law. You have the right to an attorney. If you cannot afford an attorney, one will be provided for you. Do you understand the rights I have just read to you? With these rights in mind, do you wish to speak to me?"
This warning is so familiar to Americans that many people can recite most of it, but sometimes the background is lost to history. Here are some quick facts about Miranda:
1. It's actually 4 cases. Did you know the Supreme Court's Miranda v. Arizona opinion actually decided 4 separate cases? 1) Miranda v. Arizona, 2) Vignera v. New York, 3) Westover v. United States, and 4) California v. Stewart. The four cases were consolidated for the Court's consideration.
2. It took 3 days to complete arguments. Because there were actually 4 separate cases, each case got its own oral argument slot. Arguments started on February 28, 1966, and continued on March 1 and 2.
3. The opinion is 63 pages. The justices took care to explain in detail how they reached their conclusions, much to the joy of legal scholars and the chagrin of law students.
4. It was a 5-4 decision. Some of the justices thought the court went too far by requiring the police to warn suspects of their rights.
5. 5th, 6th, and 14th. Did you know the Miranda warnings actually notify suspects of three different sets of rights? The 5th Amendment right against self-incrimination, the 6th Amendment right to an attorney, and the 14th Amendment right to have these federally granted rights enforced in state courts.
6. Ernesto Miranda was tried again. The State of Arizona tried Mr. Miranda again after the Supreme Court overturned his conviction. He was convicted again, this time without using his confession as evidence, and once again sentenced to 20-30 years in prison.
7. A Strange Twist of Fate. Mr. Miranda did not serve his full prison sentence. He was released in 1976. He was killed in a bar fight. The man suspected of killing Mr. Miranda was read his Miranda warnings and chose not to speak to police. No one was ever convicted for his death.
What's the 4th Annual Law Day Running Festival?
The Law Day Running Festival features a 5k and a 10k. Those who wish to participate in spirit can show their support as a "virtual runner." Chip timing will be provided by Stearns Race Timing. There are male and female categories for both the 5k and the 10k, with cash prizes for winners. The top runners in the attorney category receive a trophy and free entry in next year's Law Day Running Festival. After the race, stick around for food and entertainment. First Security will bring the Teal Grill. Music will be provided by DJ Kevin Broadway.
Register online by going to jonesboro10k.com. All proceeds from the race will be used by Legal Aid of Arkansas to provide legal assistance to low-income Arkansans. For more information about Legal Aid of Arkansas, visit us on the web at arlegalaid.org.
We hope to see you at the race!
What is Law Day?
Law Day is an annual commemoration first held in 1957 when American Bar Association President Charles Rhynes envisioned a special national day to mark our nation's commitment to the rule of law. The following year, President Dwight D. Eisenhower issued the first Law Day Proclamation. Law Day was made official in 1961 when Congress issued a joint resolution designating May 1 as the official date for celebrating Law Day.
SOURCES:
Facts and Case Summary – Miranda v. Arizona:
http://www.uscourts.gov/educational-resources/educational-activities/facts-and-case-summary-miranda-v-arizona
Alex McBride, Miranda v. Arizona (1966), PBS, December 2006, http://www.pbs.org/wnet/supremecourt/rights/landmark_miranda.html
Brooks Holland, Miranda V. Arizona: 50 Years of Judges Regulating Police Interrogation, ABA Insights on Law & Society Vol. 16 No. 1, http://www.americanbar.org/publications/insights_on_law_andsociety/15/fall-2015/miradavarizona_holland.html