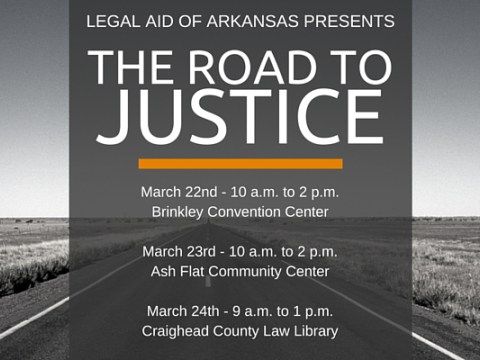 Legal Aid of Arkansas is excited to announce the sixth annual Spring Break on the Road to Justice Program, running from March 21-24, 2016. With the Road to Justice Program, law students join Legal Aid staff to meet with low-income Arkansans who need legal help. Volunteers will travel to Brinkley, Ash Flat, and Jonesboro to meet with clients on the spot.
Over the past five years, Road to Justice Volunteers have helped Arkansans find solutions to a variety of legal issues, including debt collection, housing and domestic violence. This year's focus is Employment Opportunity, but everyone is invited regardless of their legal issue. "The focus on Employment Opportunity means we will be assisting clients with cleaning up and sealing past criminal records that may be acting as a barrier to their attaining a job, housing, or other life necessities," said Lee Richardson, Legal Aid of Arkansas Executive Director.
Those with legal needs are encourage to come to a clinic and bring all of the relevant paperwork regarding their issue. The clinic schedule will be:
-Brinkley Convention Center– Tuesday, March 22, 10 a.m. to 2 p.m.
1501 Weatherby Dr., Brinkley, AR 72021
-Ash Flat Community Center – Wednesday, March 23, 10 a.m. to 2 p.m.
20 Arnhart St, Ash Flat, AR 72513
-Craighead County Law Library – Thursday, March 24, 9 a.m. to 1 p.m.
321 S Church St, Jonesboro, AR 72401
The Road to Justice Program is funded in part by the Craighead County Community Foundation, the Monroe County Community Foundation, and the Sharp County Community Foundation.
Legal Aid of Arkansas is a nonprofit organization that provides free legal services to low-income Arkansans with civil legal problems in 31 counties. If you need legal assistance, call 800-9-LAW-AID (800-952-9243) to apply for services. Learn more at www.arlegalaid.org.