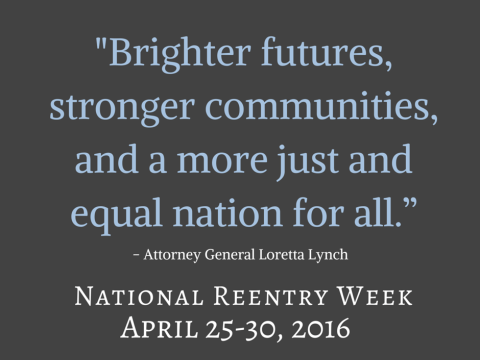 WHAT IS IT?
National Reentry Week is a program created by the United States Department of Justice (DOJ).
WHEN IS IT?
April 24-30, 2016
WHERE IS IT?
Nationwide! The DOJ is partnering with national and local organizations across the country to coordinate events, and to draw attention to the importance of reentry work.
WHY DO WE NEED IT?
Sometimes people who have already paid their debt to society are still being held back by their past. National Reentry Week is about helping people address those obstacles so they can rebuild their lives.
WHO DOES IT HELP?
Reentry programs help people like Alice Jenkins*. When Ms. Jenkins came to Legal Aid of Arkansas for help, she had already paid her debt to society. Still, she was having trouble getting a professional license. She had a thirty-year-old battery conviction on her record. The licensing board would not approve her license because of the conviction. Legal Aid helped her get the record sealed, then helped her apply for the license. A Legal Aid attorney appeared at a hearing before the licensing board with her. Now, Ms. Jenkins has a license and is working in her chosen profession.
Roughly one-third of Americans has some sort of criminal record. That record can keep them from finding gainful employment, or proper housing. In many counties in the Delta, this number is even higher. Thus, our effort in sealing criminal records is crucial. A criminal record can keep someone from finding stable employment. Due to unemployment, many Arkansans cannot afford to pay a private attorney for help in sealing their record. Civil legal aid programs, like Legal Aid of Arkansas, provide an alternative to those with little or no income. When possible, Legal Aid's reentry program provides direct representation to seal a criminal record. Other times, Legal Aid staff provide materials so the individual can file the Petition and Order to Seal on their own.
WHAT HAPPENS WHEN A RECORD IS SEALED?
After a person's record has been sealed, the law allows them to say the conviction or arrest never occurred on a job or housing application. This can make the difference between homelessness and stable housing. It can make the difference between depending on state assistance or being financially independent.
In many cases, our services impact more than the individual client. Our help enables clients to find jobs so they can provide for their families. Eric Whitman* came to us seeking assistance in sealing his criminal record. Nearly 10 years had passed since he completed his sentence. His wife had been recently laid off and they were in dire financial straits. We were able to get his criminal record sealed, finally giving him the opportunity to provide for his wife and family.
HOW CAN I GET HELP FROM LEGAL AID OF ARKANSAS?
Members of the Consumer Workgroup are holding a workshop in Mountain Home. They will help people who want information or help in sealing their record. The workshop will be at the Donald W. Reynolds Library at 300 Library Hill Lane, Mountain Home, Arkansas 72657. Stop by to see them on July 21 from 1:00-6:30, or July 22 from 10:00-1:00. We will start scheduling appointments in June.Call 870-972-9224 ext. 2203 or 4301 for more details.
Staff Attorney Amanda Simmons takes walk-ins on the second Wednesday of every month at the public library in Forrest City, AR.
You can apply online anytime by visiting arlegalaid.org/get-help/apply-for-legal-aid.
You can also apply for help by calling our HelpLine at 1-800-9LAW-AID (1-800-952-9243).
*Names of clients have been changed to maintain confidentiality. Any similarity to real persons or events is not intended.