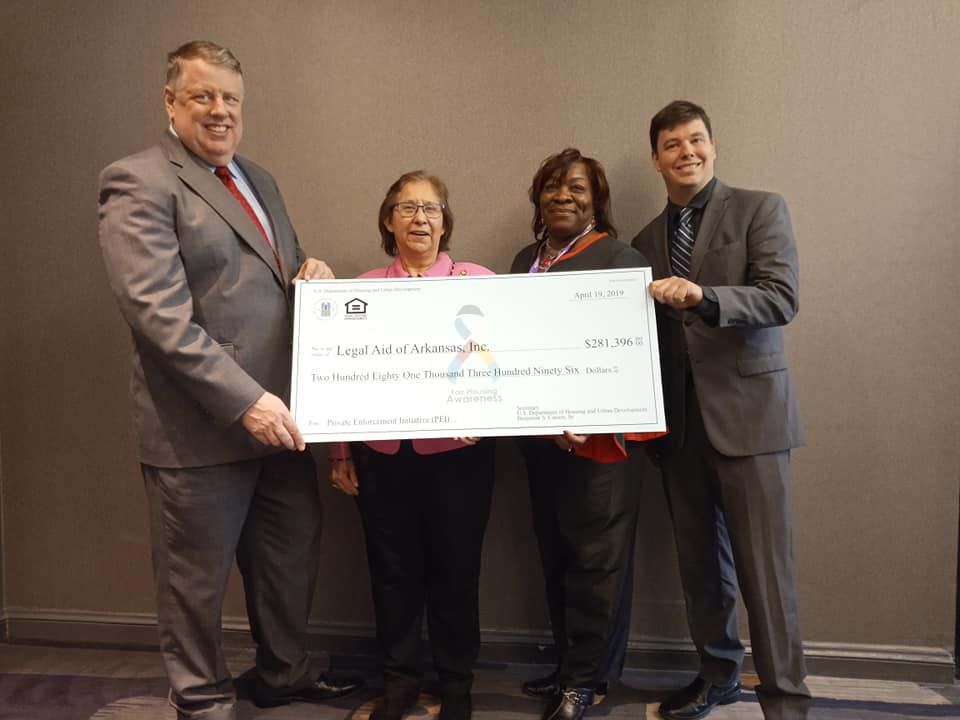 Legal Aid of Arkansas has been awarded $281,396 by the Department of Housing and Urban Development, announced last week by HUD.
The Private Enforcement Initiative grant comes through HUD's Fair Housing Initiatives Program, which provides funding for organizations across the country to assist individuals who have been victims of housing discrimination and educates the public, housing providers and other related organizations on the Fair Housing Act.
The grant will fully fund Legal Aid's Fair Housing Project for three years, beginning June 3, and makes Legal Aid Arkansas' first private fair housing enforcement law firm. The funding will allow the organization to accept more housing discrimination cases as well as expand its testing program, continue education and outreach and conduct housing discrimination investigations.
Anna Maria Farías, assistant secretary for fair housing and equal opportunity, presented a check to staff of the Fair Housing Project on April 19 during the Arkansas Fair Housing Conference. Executive director Lee Richardson, staff attorney Pam Abrams and fair housing project director Jason Auer accepted the check.
Legal Aid completed an Education and Outreach Initiative grant under the Fair Housing Initiatives Program that began April 2018 and ended in March. During that period, the organization conducted over 80 outreaches throughout the state, educating over 1,200 staff members and tenants of housing authorities, homeless shelters, domestic violence shelters, cities and related community organizations on the fair housing act.
The federal Fair Housing Act protects home buyers and renters from discrimination based on membership in one of the Act's seven protected classes - race, color, national origin, religion, sex, familial status and disability.
Legal Aid is a nonprofit, public interest law firm that provides free legal services to low-income Arkansans with civil legal problems across 31 counties.  To apply for assistance or for more information, call 1-800-952-9243 or visit www.arlegalaid.org.