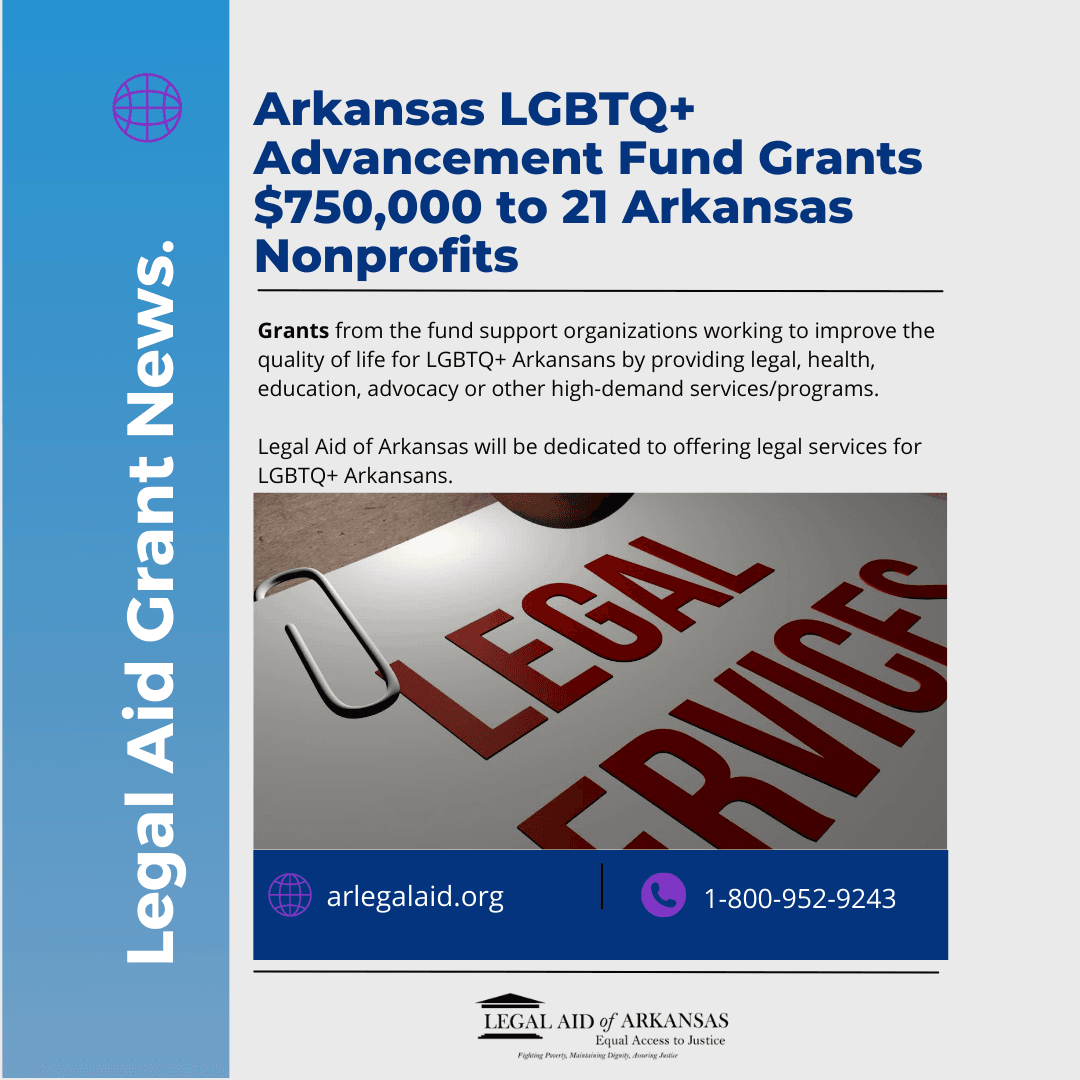 Little Rock, Ark. (Feb. 2, 2022) –  Arkansas Community Foundation today announced that 21 grants were made from the Arkansas LGBTQ+ Advancement Fund to support organizations with programs, activities or projects that directly support LGBTQ+ Arkansans. Grant applications are being accepted for the second round of funding until March 15.
"This fund allows LGBTQ-serving nonprofits in our state to expand their impact on communities and help Arkansans pull together to build a more welcoming and supportive environment for us all," said Heather Larkin, president of Arkansas Community Foundation.
Grants from the fund support organizations working to improve the quality of life for LGBTQ+ Arkansans by providing legal, health, education, advocacy or other high-demand services/programs. 
GranteePurpose
Arkansas Black Gay Men's ForumTo host the Central Arkansas LGBTQ+ Awards and Little Rock Black Pride Festival
Arkansas Chapter American Academy of Pediatrics FoundationTo educate Arkansas pediatric health professionals on LGBTQ-friendly care and advocacy
Arkansas Humanities CouncilTo host a lecture series and panel discussions highlighting LGBTQ+ history and culture
Arkansas RAPPS, Inc.To establish a community wellness resource center in Little Rock
Central Arkansas Library System FoundationTo create a Gender and Sexualities Alliance (GSA) for teens and young adults
Central Arkansas PrideTo host the Kaleidoscope LGBTQ+ Film Festival
Club Z at Sweet HouseTo support basic needs, counseling and wraparound support for LGBTQ+ youth in the Fort Smith area
Equality CrewTo provide resources for LGBTQ+ youth and to conduct research on quality of life issues for LGBTQ+ youth
Eureka Springs Downtown Network/Main Street Eureka SpringsTo provide entrepreneurship training for LGBTQ+ artists and makers
Ferncliff Camp & Conference CenterTo provide scholarships for children and families to participate in Rainbow Family Camp
Foster LoveTo recruit, train and support foster families for LGBTQ+ foster children
Gay For GoodTo host inclusive events and volunteer service projects to increase LGBTQ+ visibility and build allies.
Good Shepherd Lutheran ChurchTo host camps and activities for queer youth and allies
The Transition ClosetTo provide gender-affirming clothing and accessories for transgender and non-binary Arkansans
Hot Springs AIDS Resource Center, Inc.To provide health education and support for individuals with HIV/AIDS in Southwest Arkansas
IntransitiveTo provide peer-to-peer support, outreach, advocacy and basic needs for transgender Arkansans
Legal Aid of ArkansasTo provide dedicated legal services for LGBTQ+ Arkansans
Lucie's PlaceTo provide assistance with housing and basic needs for LGBTQ+ youth and young adults
NEA ProgressTo host Northeast Arkansas PRIDEfest
PowerHub, Inc.To conduct outreach, support and community-building activities for LGBTQ+ youth in the Batesville area
SpinsterhavenTo establish a nurturing outdoor space for meetings and events for LGBTQ+ individuals and allies
Grants were awarded based on their scale of positive impact, the potential for success, a focus on underserved communities, clarity of goals and outcomes, and an effective use of budget.
"The impact of this grant will be significant. It allows us to grow our health and wellness programming to decrease new HIV infections," said Cornelius Mabin, Jr., executive director of Arkansas RAPPS. "The grant also helps us build capacity to offer more nutritional services, housing opportunities and addressing the quality of life within the LGBTQIA+ community on our campus."
The next grant cycle for this fund is now open and will close on March 15. Eligible organizations can apply for grants of up to $150,000. Priority will be given to organizations with programs, activities or projects that directly support LGBTQ+ Arkansans. For more information on applying, visit www.arcf.org/lgbtq.
The Arkansas LGBTQ+ Advancement Fund is possible through philanthropic support from the Alice L. Walton Foundation, Olivia and Tom Walton through the Walton Family Foundation and the Winthrop Rockefeller Foundation.
The grant selection committee included leadership from the funder community and representation from the LGBTQ+ community both locally and nationally. 
About Arkansas Community Foundation
Arkansas Community Foundation, a nonprofit organization with over a half billion dollars in assets, fosters smart giving to improve communities. The Community Foundation offers tools to help Arkansans protect, grow and direct their charitable dollars as they learn more about community needs. By making grants and sharing knowledge, the Foundation supports existing charitable programs that work for Arkansas and partners to create initiatives that address unmet needs. Since 1976, the Community Foundation has provided more than $314 million in grants and partnered with thousands of Arkansans to help them improve our neighborhoods, our towns and our entire state. Contributions to Arkansas Community Foundation, its funds and any of its 29 affiliates are fully tax deductible.
About the Alice L. Walton Foundation
Founded in 2017, the Alice L. Walton Foundation works to enhance the quality of life for individuals through providing access to offerings that improve well-being and create diverse and inclusive communities. The foundation focuses on philanthropist Alice Walton's commitment to increasing access to the arts, improving education outcomes, enhancing health, and advancing economic opportunity for all. Through this work, the foundation strives to deliver meaningful and lasting change to individuals and communities most in need. Learn more at AliceWalton.org.
About the Walton Family Foundation
The Walton Family Foundation is, at its core, a family-led foundation. Three generations of the descendants of our founders, Sam and Helen Walton, and their spouses, work together to lead the foundation and create access to opportunity for people and communities. We work in three areas: improving K-12 education, protecting rivers and oceans and the communities they support, and investing in our home region of Northwest Arkansas and the Arkansas-Mississippi Delta. To learn more, visit waltonfamilyfoundation.org and follow us on Facebook, Twitter and Instagram.