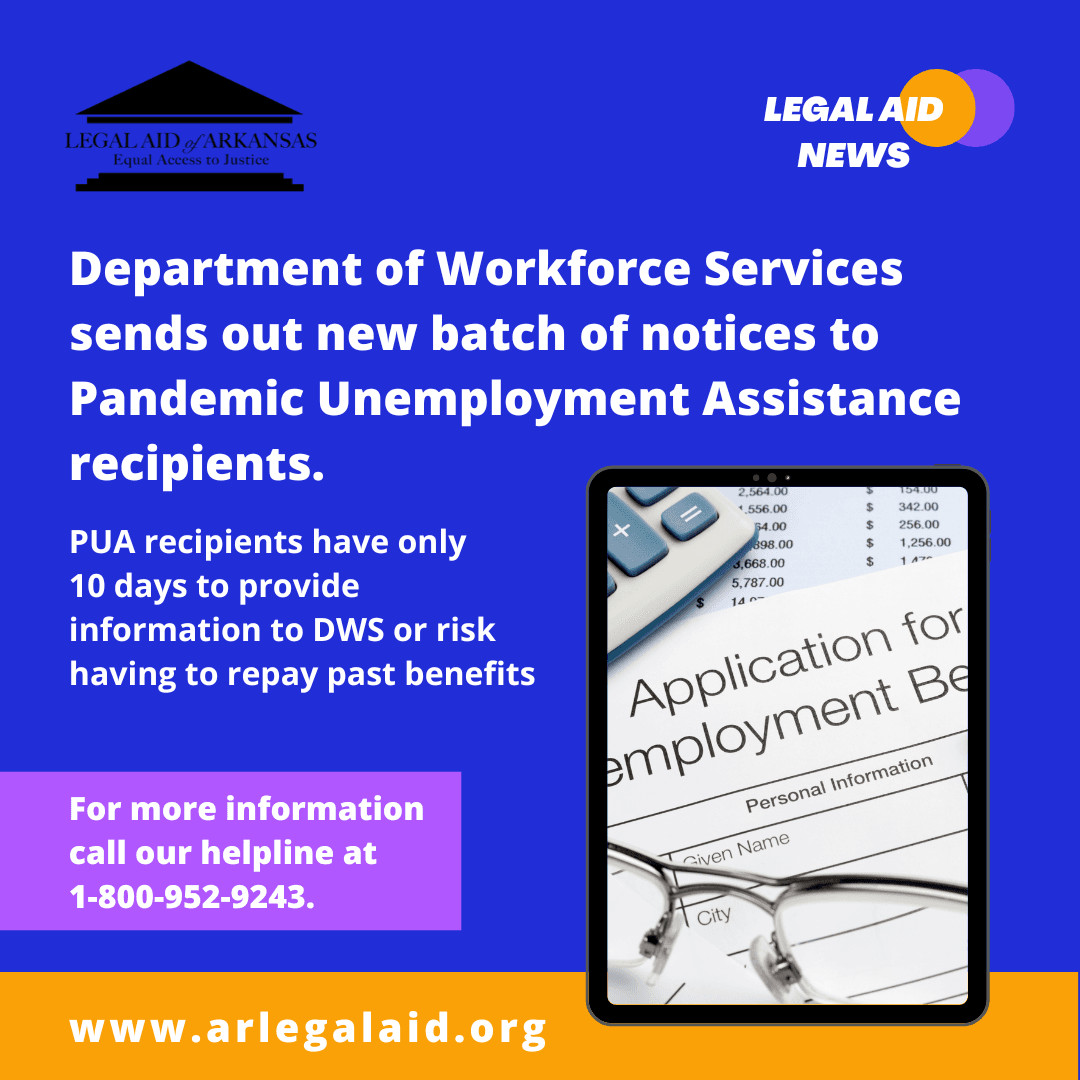 Legal Aid of Arkansas understands that previous PUA claimants have started receiving notices saying that they "would have been monetarily eligible" for traditional unemployment (known as "UI") at the same time that they received Pandemic Unemployment Assistance (known as "PUA") benefits.  These notices reportedly have extremely tight deadlines, requiring claimants to return an application only 10 days after the mailing date on the notice (NOT the day that you received the notice).  We are hearing from a number of people who are confused about why they received this notice and whether they are required to answer it.  
WHAT TO DO IF YOU RECEIVED THIS NOTICE: Fill out the UI application and return it as soon as possible and no later than the deadline listed on your notice.  The notices have 3 ways to return them: via fax, email, or mail.  If you send it by regular mail, you should plan for it to take several days to arrive.  If possible, try to send the application in a way that you can prove when you sent it, i.e. by keeping a fax confirmation, a copy of the email you sent, or by sending it by "certified mail" and keeping the receipt.
BUT WHAT IF I ALREADY APPLIED FOR UI AND WAS DENIED? DO I HAVE TO APPLY AGAIN?: Yes.  People are reporting that they received this notice even though they have previously applied for and were denied UI.  According to the Agency, everyone who received this notice must fill out and return the included application for UI, even if you already applied for and were denied UI.
WHAT HAPPENS IF YOU DON'T RETURN THE UI APPLICATION ON TIME: If you do not return this notice by the deadline, it is possible that the Agency will require you to pay back all or part of the PUA benefits that you previously received.  The state may take steps to get this money back, including withholding your tax return and/or future benefits.  It is very important that you return the completed application as soon as possible.
WHAT IF I'VE MOVED SINCE I APPLIED FOR PUA?: We recommend that you contact the Agency as soon as possible to update your address with them and to confirm whether this notice was sent to your old address.
I'VE BEEN ISSUED A PUA OVERPAYMENT, WHAT DO I DO NOW?: You should appeal the decision as soon as possible if you disagree with the decision.  You will only have 20 days from the mailing date on the notice (not the day you received it!) to appeal the decision to the Appeal Tribunal.  If you have any questions or need legal representation, you are welcome to contact our Helpline (800-952-9243) and request our services, but you should not wait to contact us before filing your appeal.
Legal Aid is continuing to monitor this situation and will update as soon as we can.