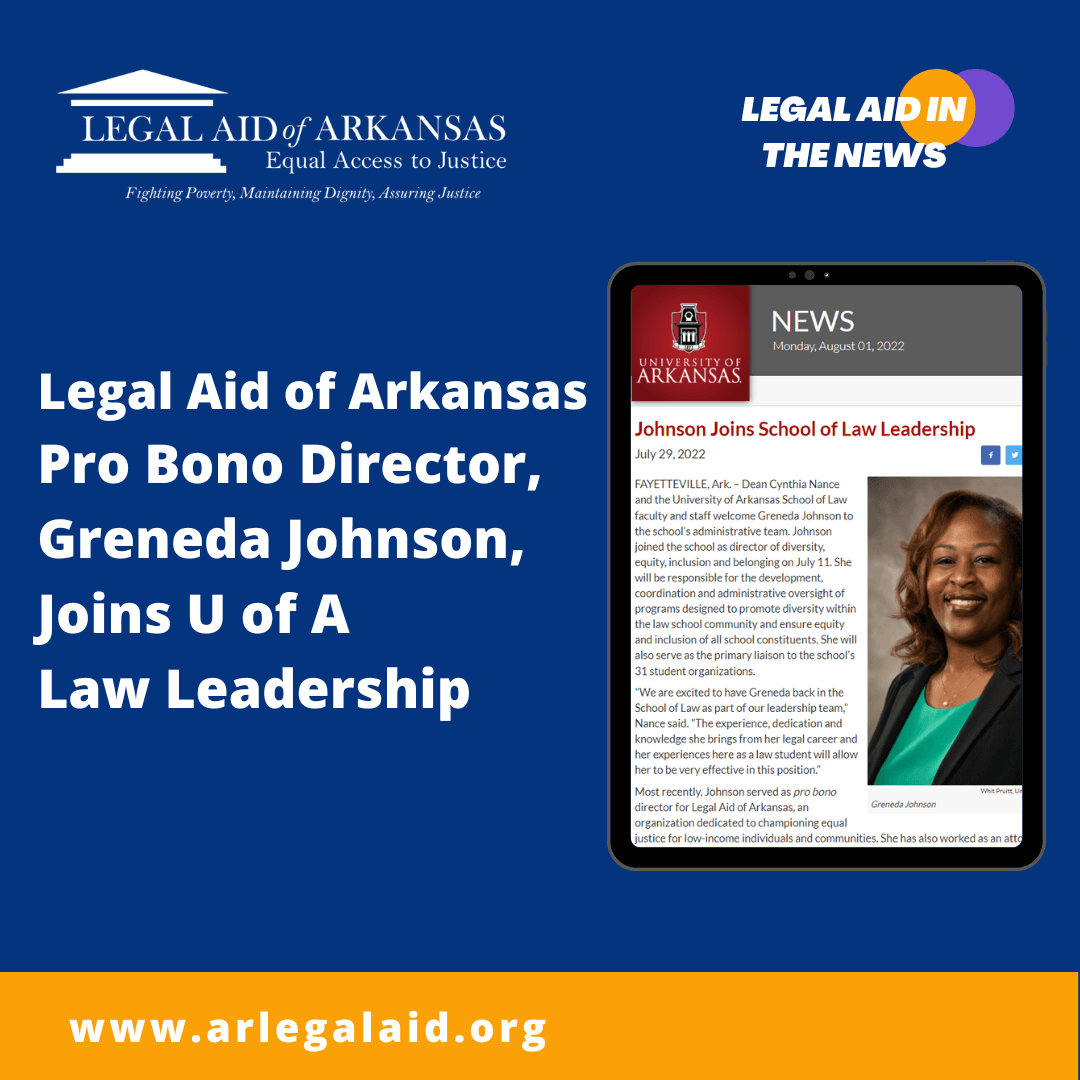 FAYETTEVILLE, Ark. – Dean Cynthia Nance and the University of Arkansas School of Law faculty and staff welcome Greneda Johnson to the school's administrative team. Johnson joined the school as director of diversity, equity, inclusion and belonging on July 11. She will be responsible for the development, coordination and administrative oversight of programs designed to promote diversity within the law school community and ensure equity and inclusion of all school constituents. She will also serve as the primary liaison to the school's 31 student organizations.    
"We are excited to have Greneda back in the School of Law as part of our leadership team," Nance said. "The experience, dedication and knowledge she brings from her legal career and her experiences here as a law student will allow her to be very effective in this position."
Most recently, Johnson served as pro bono director for Legal Aid of Arkansas, an organization dedicated to championing equal justice for low-income individuals and communities. She has also worked as an attorney specialist or staff attorney for Legal Aid of Arkansas and the Arkansas Department of Human Services. At ADHS, she researched state and federal law related to current legal issues and advised managers on matters affecting the agency in addition to preparing legal briefs, motions and other pleadings to support the day-to-day work of the agency. Johnson's first legal position was as a licensing and compliance law clerk at Walmart.
A native of Fort Smith, Johnson is a two-time graduate of the University of Arkansas. In 2004 she received a Bachelor of Arts in political science and legal studies from the Fulbright College of Arts and Sciences, and she is a 2007 graduate of the School of Law. Johnson has a passion for encouraging others and for improving diversity in the legal profession. In 2019 she, along with fellow 2007 School of Law graduates Cornelius Boone, Tea' Boone, Efrem Neely and Angela Wilson, created and funded a scholarship to encourage diverse students to choose law as a profession. The scholarship will be awarded for a third time this fall. Johnson has also been an active alumna who supported the school by mentoring students and coordinating alumni activities.      
About the School of Law: The law school offers a competitive J.D. as well as an advanced LL.M. program, which are taught by nationally recognized faculty. The school offers unique opportunities for students to participate in pro bono work, externships, live client clinics, competitions, and food and agriculture initiatives. The school strives to identify, discuss, and challenge issues of race, color, ethnicity, and the impact(s) they have on students, faculty, and staff members to achieve a diverse, inclusive, and equitable community. From admitting the Six Pioneers who were the first African American students to attend law school in the South without a court order to graduating governors, judges, prosecutors, and faculty who went on to become president of the United States and secretary of state, the law school has a rich history and culture. Follows us at @uarklaw.