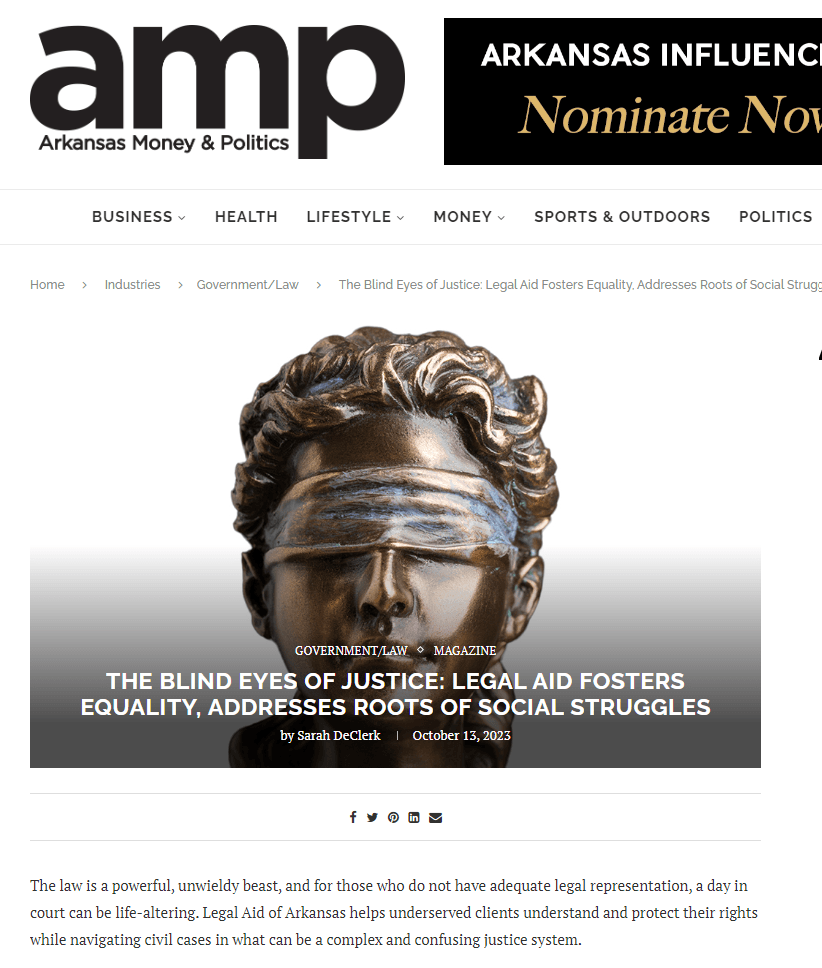 The law is a powerful, unwieldy beast, and for those who do not have adequate legal representation, a day in court can be life-altering. Legal Aid of Arkansas helps underserved clients understand and protect their rights while navigating civil cases in what can be a complex and confusing justice system.
"The most humble among us should be the peer of the most affluent when seeking access to justice," said Lee Richardson, executive director, who added that indigent individuals have no right to counsel in civil cases except in very limited circumstances.
"Equality under the law, the rule of law, is the cornerstone of our country," he said. "Justice enjoyed only by those of means and rationed for those with limited ability to pay ultimately leads to a breakdown in confidence and a marginalized population without confidence in the system."

Legal Aid provides free civil legal services to low-income individuals and families who cannot afford to pay an attorney. With a focus on protection from domestic violence, access to safe and affordable housing, consumer protection, and economic justice, including access to public benefits, Legal Aid provides advice, limited services and extended services, including full representation in court, depending on the circumstances of each case and Legal Aid's capacity.
Legal Aid also engages in community outreach and education and hosts a score of legal clinics annually on topics such as sealing criminal records, estate planning, and name and gender changes. The organization also provides legal information and self-help forms at arlawhelp.org.
"In many situations, it is hard for a lay person or community agency serving that person to identify when an attorney is needed or if a situation might be one that ultimately has a legal solution that needs the involvement of a lawyer," Richardson said. "When in doubt, the individual should contact us and let us determine if there is a legal solution or the need for intervention by counsel."
Legal Aid generally serves those with a household income at or below 125 percent of the poverty line, but Richardson said many funding streams are available for those at 200 percent and higher. In addition, several grants do not require a means test, including the Fair Housing Project grant funded by the U.S. Department of Housing and Urban Development and grants funded by Victims of Crime Act and Older Americans Act funding.
Case priorities are set by Legal Aid's board of directors, which includes 12 attorneys and six client-eligible individuals from the 31-county service area. The primary factors involved in case acceptance and the level of services provided include the likelihood of legal success, the resources required, capacity, the vulnerability of the client, alternative resources, the long-term benefit of representation to the client and the community, and the seriousness of the legal matter, including its impact on the client and whether the issue is common or systemic.
"We regularly do a legal-needs assessment in the community, engaging clients, other organizations serving clients, judges, attorneys, public officials and available statistics," Richardson said. "Each of our substantive groups closely reviews priorities in that area annually to present to the board for approval."
Since 2018, Legal Aid has operated the HUD-funded Fair Housing Project, which represents victims of housing discrimination by helping clients bring affirmative and defensive discrimination cases to state and federal court and by providing representation in administrative cases before HUD and the Arkansas Fair Housing Commission. The program also helps clients obtain relief such as reasonable accommodations and modifications for individuals with disabilities.
Legal Aid also uses the grant funds to conduct systemic investigations to ensure housing providers comply with state and federal civil rights laws and to provide education and outreach to individuals, community organizations, landlords, tenants and housing professionals.
Another program, the Low-Income Taxpayer Clinic, provides free representation to Arkansas regarding income-tax controversies with the IRS and the Arkansas Department of Finance and Administration. The clinic works with the IRS to generate accurate tax assessments while fostering consistent tax-filing compliance by Arkansas taxpayers. The clinic includes an ongoing education campaign that explains common tax principles and promotes Volunteer Income Tax Assistance sites.
"Through grant and donor funding, Legal Aid of Arkansas secures millions of dollars in refunds for taxpayers who cannot navigate the federal and state tax rules on their own," Richardson said. "We also lower their tax liabilities in audits, identity-protection procedures and collection cases, and other matters."
One statewide project led by Legal Aid and the Center for Arkansas Legal Services is Beyond Opioids, which focuses on providing free attorneys to individuals and families of individuals struggling with opioid-use and substance-use disorders. The goal of the project is to address the social determinants of recovery and help clients achieve financial stability, safe and affordable housing, consumer protections, and stable lives free of family violence.
Richardson said Legal Aid has assisted about 5,000 clients since the project started in September 2021.
"The biggest hurdle was overcoming the stigma surrounding this issue. We had to first work internally, then in the legal community and judicial system, and finally externally to achieve acceptance for and excitement about this highly successful project," he added. "We have since made many presentations about this concept on the national level, and the project is being replicated in other states."
Legal Aid partners with dozens of public and private organizations locally, statewide and nationally, including domestic violence shelters, homeless shelters and organizations that assist victims of disasters, victims of human trafficking, people recovering from substance abuse, people reentering from prison and members of the LGBTQ community.
In addition, Legal Aid has several medical-legal partnerships with organizations such as Arkansas Children's, Boston Mountain Rural Health Center, Mid-Delta Health Systems and Veterans Healthcare System of the Ozarks.
"An MLP is a collaboration between Legal Aid and a health care partner to address the social and legal needs of a patient or their family that may have a negative impact on their health," Richardson said. "Working together, we are able to improve health outcomes for patients, including reducing hospital readmissions. This also saves money for health care providers."
In 2022, Legal Aid closed more than 7,000 cases that benefitted nearly 18,000 household members, including more than 8,000 children. Domestic violence was present in about 2,200 of those cases, and substance abuse was present in about 1,300.
Legal Aid helped with more than 70 types of legal issues that year, the top five being divorce, orders of protection, landlord-tenant relationships, criminal record sealing, and custody or visitation rights, and obtained more than 400 orders of protection. The organization also saved or recovered more than $3.5 million for clients.
Major victories accomplished over the past several years include preventing a landlord from systematically evicting all the Marshallese tenants in an apartment complex, preventing the state from cutting people off Medicaid via work-reporting requirements, eliminating an algorithm that cut the in-home care of disabled or elderly Arkansans, improving the appeals process for people facing Medicaid cuts, and making sure eligible people secured unemployment benefits during the COVID-19 pandemic, Richardson said.
Throughout the years, Legal Aid staff have learned that there will forever be an endless line of clients seeking help and that the world will never give the organization the resources to do what it is asked or expected to do, he said. With that in mind, the organization shifted to an upstream model of delivery about 10 years ago.
"Instead of trying to save all the babies floating down the river — invariably we will not get to all of them, and some will be lost — we have pivoted to working upstream, looking for the ogre tossing the babies into the stream, then working at the source to defeat the problem, all the while, still working downstream to save as many babies as we can," he said. "This upstream work has been impactful on several fronts. We will continue to use this mix of strategies to maximize our services."
Legal Aid constantly evolves the services it offers and works to stay on the cutting edge of new technologies and ideas, Richardson said, adding that the organization was able to seamlessly transition from the office to remote work without any service disruptions during the pandemic. In the future, Legal Aid may incorporate artificial intelligence into its day-to-day operations somehow, he added.
"Orthodoxy is the enemy of nonprofits in general and Legal Aid programs in particular," he said. "We will continue to gauge the legal needs of the communities we serve and be mindful, thoughtful and deliberate in how we deploy the meager resources the world provides us with to have the greatest impact."
Go to article link.